Big Splash Adventure Indoor Water Park and Resort in French Lick, Indiana
I haven't been able to scratch off Greece or Barcelona off my vacation bucket list yet, but this has been one of the most relaxing, yet adventurous summers that I've had for awhile. My family and I have traveled to several places this summer. Some of the places include Big Splash Adventure in French Lick, Indiana; Marengo Cave in Marengo, Indiana; and Lincoln Boyhood National Memorial in Clay, Indiana, to name a few. Out of all the places that we've visited this summer, my son loved Big Splash Adventure Indoor Water Park the most. This 40,000 square feet water park is beautifully enclosed in a glass structure. It's also one of the few water parks in the world that features a retractable roof!
French Lick has quickly become one of my favorite places to visit! Aside from it being famously known as the hometown of Larry Bird, French Lick is small, quaint, historic, yet very beautiful and scenic, with mountains of lush green trees, old barns, rolling hills, and Patoka Lake. This weekend, thanks to US Family Guide and Big Splash Adventure, I had the second opportunity to visit French Lick, Indiana. However, I was able to expand my adventure even further by being provided with overnight stay in their Double Splash room, including 4 water park passes, and a full hot breakfast. I was also given 4 tickets to Shotz, their Lazer Tag and Miniature Golf facility, and 4 tickets to French Lick Ziplines at Wilstem Ranch.
Although my certificate covered up to 4 people, which would be me, my husband, and two of our children; my son had school the day we were scheduled for our overnight stay at the Big Splash Adventure Indoor Water Park & Resort. Since I didn't want my son to miss school, especially during his first week, my son was with my mother while my daughter stayed with my mother-in-law. Therefore, my husband and I were about to enjoy a short, yet relaxing overnight getaway sans children – a first!
Upon our arrival, we were "welcomed" by the welcome bear outside of Big Splash Adventure Indoor Water Park & Resort.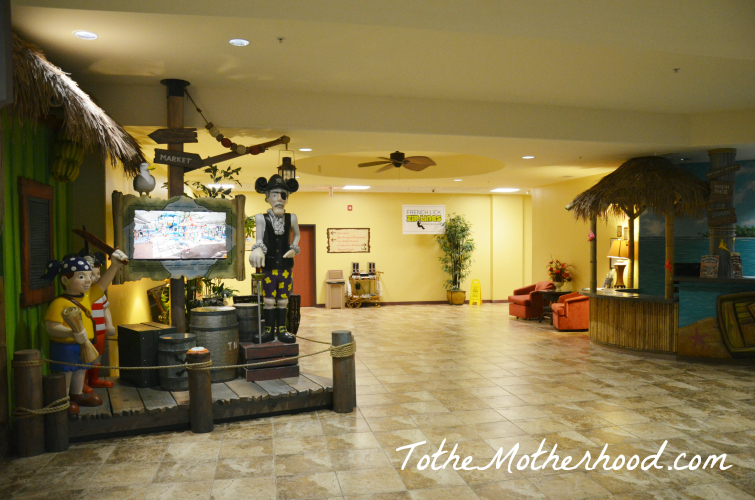 Inside, we were greeted by a warm, family-friendly, and welcoming tropical atmosphere.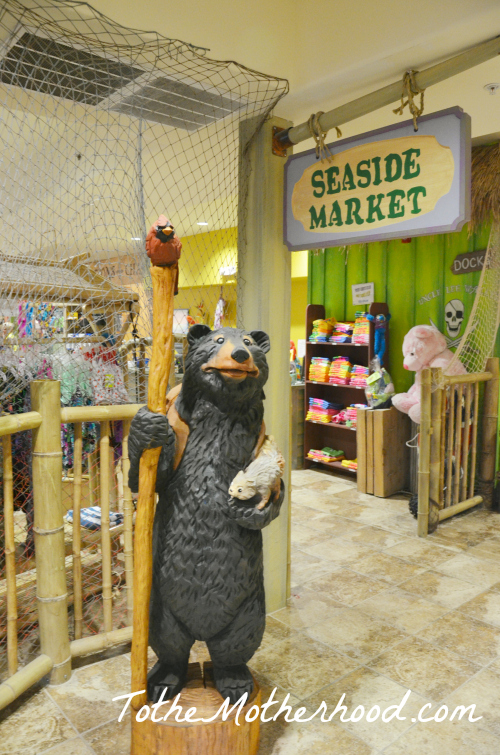 To our left, stood the Seaside Market, a gift shop that I made a mental memo to myself to later on check once we were settled in.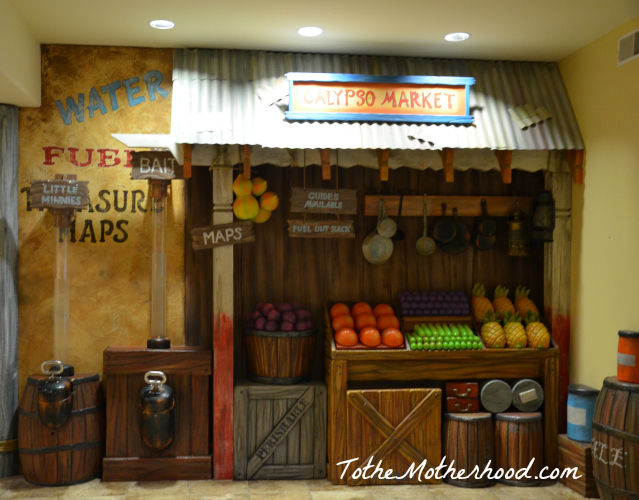 Alongside the front desk, stood the Calypso Market, which wasn't a real market, of course, but it was something to add to their family-friendly tropical atmosphere.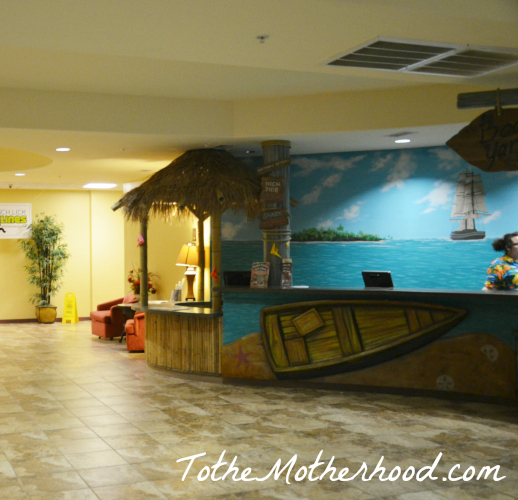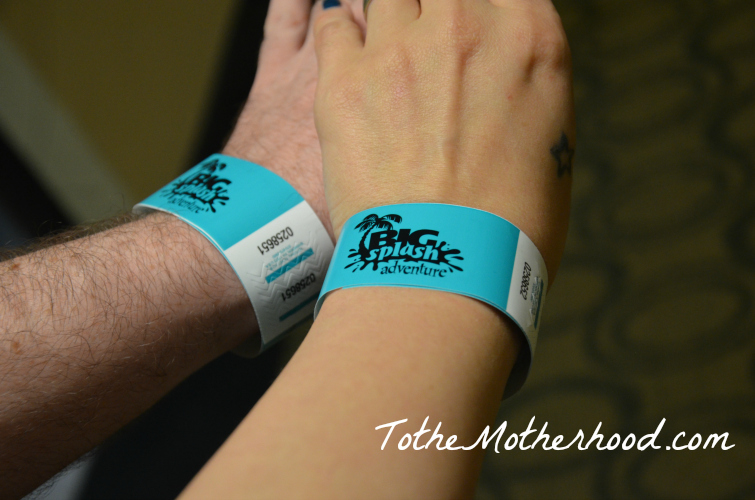 The staff was just as warm and welcoming. Although our room was ready, they needed our information (i.e. driver's license and license plate number) for verification purposes. Once this was all verified, they gave us both wristbands for guest identification, which doubled as a key to get into our room and their fitness facility.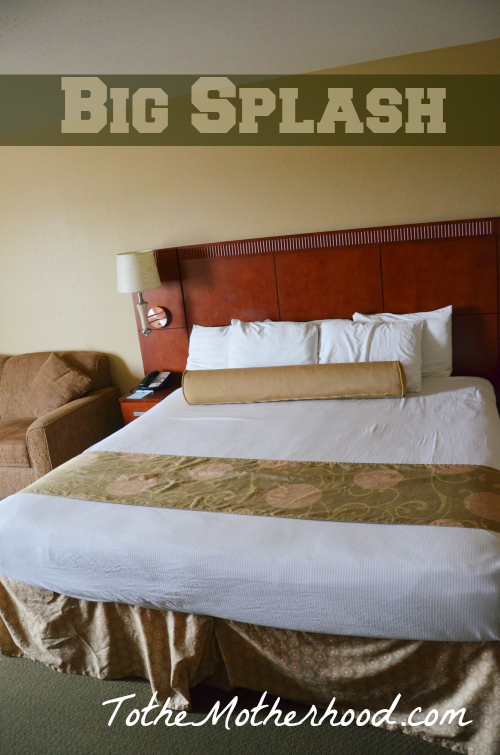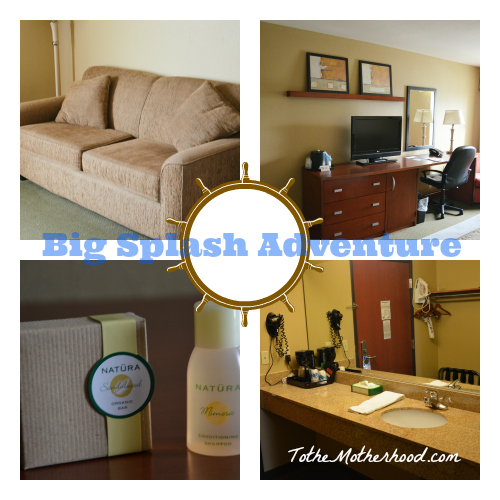 Considering it was just the two of us, there wasn't any sense of getting the Double Splash room, which included two queen sized beds. The Big Splash was all we needed – a comfortable and beautiful king bed. It also included a sleeper sofa, a 32 inch flat screen television, coffee maker, coffee samples, complimentary organic sample sized bath products, iron, ironing board and hair dryer, wireless internet, and wired high speed internet connection.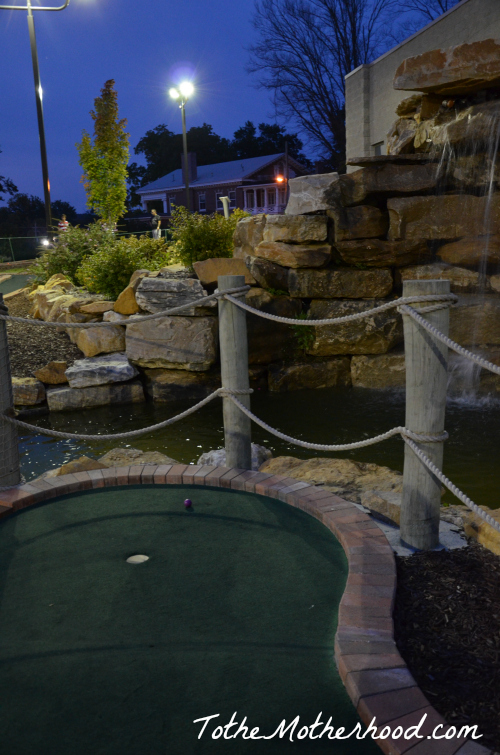 By the time we got settled in, we weren't up for going to the Big Splash Adventure Indoor Water Park until today. Instead, yesterday evening, we trekked to Shotz. Shotz is a unique place for the whole family enjoy. It had been AGES since my husband and I both played miniature golf. We had a choice between 18 hole outdoor Miniature Golf Course or a 9 hole indoor Miniature Cosmic Golf Course. We opted for the first and had fantastic fun without taking our golf game seriously by not keeping score. We also enjoyed the peaceful scenery – the sound of running water from one of their seven waterfalls, large rock formations, and bridges. After completing our fun game of mini golf, we were feeling spontaneous and decided to try out a game of lazer tag for the first time ever! It was quite a workout, mentally and physically, but it was so much fun – I'd definitely do it again!
We were tired and worn out by the time we made it to our room, but we managed to watch a couple of episodes of My Strange Addiction on Netflix on my laptop. We could barely keep our eyes opened after that and was quickly lulled into a blissful slumber.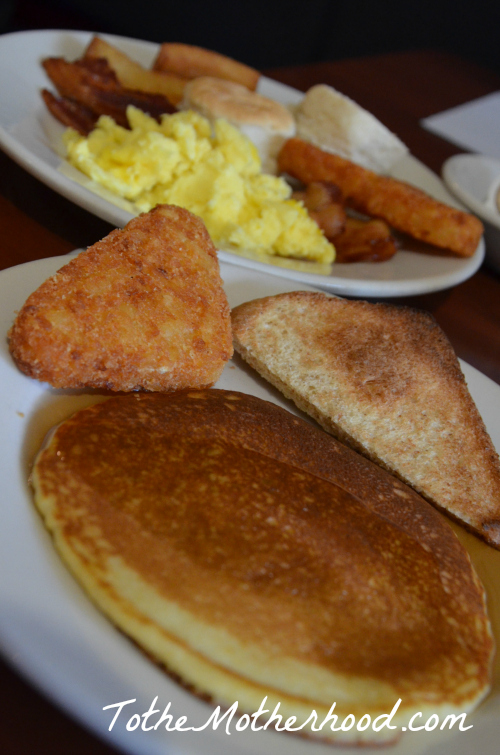 This morning, we ate a complimentary hot breakfast from their buffet at their restaurant called The Boatyard. The food was decent, and the perfect way to jumpstart the long day that we had ahead of us.
Overall, our experience was fun and memorable, and hope to visit again! In fact, I know I'll be visiting French Lick again before the year is over since I have yet to experience ziplining at French Lick Ziplines at Wilstem Ranch.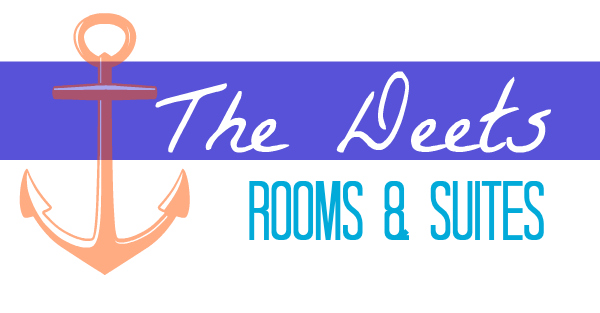 .
Big Splash:
• King bed and sleeper sofa
• Admission for 4 to Big Splash Adventure Indoor Water Park (for each day of stay)
• 32 inch flat screen television
• Coffee Maker, Iron, Ironing Board and Hair Dryer
• Wireless Internet and 1 Wired High Speed Internet Connection
• Complimentary full, hot breakfast each morning of your stay
• Room sleeps 4 people
Double Splash:
• Two queen sized beds
• Admission for 4 to Big Splash Adventure Indoor Water Park (for each day of stay)
• 32 inch flat screen television
• Coffee Maker, Iron, Ironing Board and Hair Dryer
• Wireless Internet and 1 Wired High Speed Internet Connection
• Complimentary full, hot breakfast each morning of your stay
• Room sleeps 4 people
Captain's Cabin:

• King bed, single set of custom built in twin-sized bunk beds
• Admission for 4 to Big Splash Adventure Indoor Water Park (for each day of stay)
• 32 inch flat screen television
• Coffee Maker, Iron, Ironing Board and Hair Dryer
• Wireless Internet and 1 Wired High Speed Internet Connection
• Complimentary full, hot breakfast each morning of your stay
• Room sleeps 4 people

Pirate's Fortress:

• King bed, single set of custom built in twin size bunk beds, and sleeper sofa
• Private room with queen size bed, separate bathroom and separate 32 inch flat screen television
• Admission for 6 to Big Splash Adventure Indoor Water Park (for each day of stay)
• 32 inch flat screen television
• Activity/ Dining table with two chairs
• Refrigerator and microwave
• Coffee Maker, Iron, Ironing Board and Hair Dryer
• Wireless Internet and 1 Wired High Speed Internet Connection
• Complimentary full, hot breakfast each morning of your stay
• Room sleeps 8 people (please note: there is a $20 charge per person per night if more than 6 people accommodate room.)

Pirate's Hideaway:
• King bed, double set of semi- private custom built in twin size bunk beds
• Admission for 6 to Big Splash Adventure Indoor Water Park (for each day of stay)
• 32 inch flat screen television
• 26 inch flat screen television in bunk bed area
• Activity/ Dining table with two chairs
• Refrigerator and microwave
• Coffee Maker, Iron, Ironing Board and Hair Dryer
• Wireless Internet and 1 Wired High Speed Internet Connection
• Complimentary full, hot breakfast each morning of your stay
• Room sleeps 6 people
Pirate's Paradise:

• King bed, single set of custom built in twin size bunk beds, and sleeper sofa
• Admission for 4 to Big Splash Adventure Indoor Water Park (for each day of stay)
• 32 inch flat screen television
• Activity/ Dining table with two chairs
• Refrigerator and microwave
• Coffee Maker, Iron, Ironing Board and Hair Dryer
• Wireless Internet and 1 Wired High Speed Internet Connection
• Complimentary full, hot breakfast each morning of your stay
• Room sleeps 6 people (please note: there is a $20 charge per person per night if more than 4 people accommodate room.)
Sun Splash Suite:
• King bed and sleeper sofa
• Private room with queen size bed, separate bathroom and separate 32 inch flat screen television
• Admission for 4 to Big Splash Adventure Indoor Water Park (for each day of stay)
• 32 inch flat screen television
• Activity/ Dining table with two chairs
• Refrigerator and microwave
• Coffee Maker, Iron, Ironing Board and Hair Dryer
• Wireless Internet and 1 Wired High Speed Internet Connection
• Complimentary full, hot breakfast each morning of your stay
• Room sleeps 6 people (please note: there is a $20 charge per person per night if more than 4 people accommodate room.)
Sun Splash (ADA):
• King Bed
• Roll in shower with bench
• Admission for 2 to Big Splash Adventure Indoor Water Park (for each day of stay)
• 32 inch flat screen television
• Activity/ Dining table with two chairs
• Refrigerator and microwave
• Coffee Maker, Iron, Ironing Board and Hair Dryer
• Wireless Internet and 1 Wired High Speed Internet Connection
• Complimentary full, hot breakfast each morning of your stay
• Room sleeps 2 people